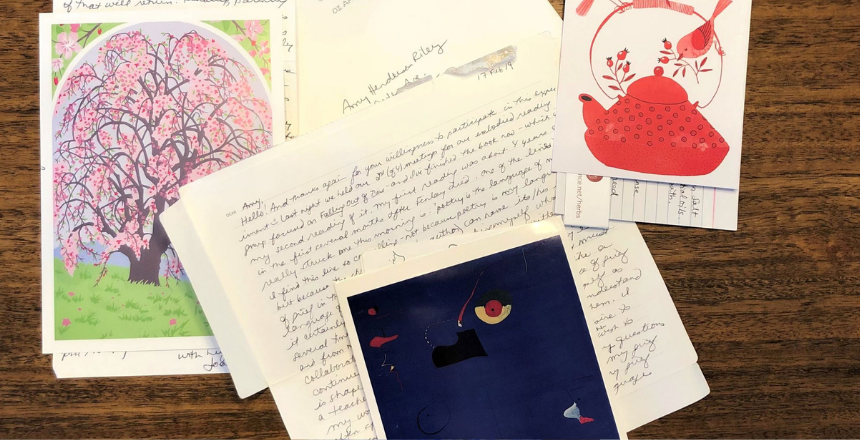 The two of us have lived through some shit. Joanne, who lives in North Carolina, survived the sudden, inexplicable death of her son, Finlay, during childbirth in 2014. Amy, who lives in New Jersey, suffered six pregnancy losses over a three-year period. We each stumbled upon Modern Loss when searching for outlets and connections for our maternal grief. In December 2018, we both signed up for the Winter Holiday Gift Swap, which matches participants interested in sending a gift to and receiving one from a fellow griever during an exceptionally difficult time of year. Fortunately, we were paired.
Our pairing was truly serendipitous. Our gifts were chosen and sent with care. (Amy found Joanne's homemade herb-infused honey, herbal tea, and bath salts to be nurturing and Joanne's love of travel and hiking was captured in the U.S. wall map and poster of National Park postcards that Amy thoughtfully sent.) When expressing our gratitude to one another via email after the holidays, we learned that we shared more than the profound disappointment of not being able to raise the children whose lives began inside us. We realized that we both had backgrounds in theatre; we both held advanced degrees; and we were both using creative methods to engage in research related to, respectively, public health and grief support (for example, Amy's 2020 journal article about miscarriage and Instagram).
Joanne had an idea for an experiment: What if we became grief pen pals? Might this exchange of hand-written letters prompt us to process our grief more deeply? How might we learn from each other about different expressions of grief and practices for healing? Amy was intrigued, and we began writing monthly cards and letters.
Our experiment had both anticipated and unexpected results. As we wrote and read each letter, we were able to disentangle our complex feelings, dwell on the places where grief resided in our bodies, and discuss how we felt supported (or not) by those in our lives. This process served as an important complement to talk therapy and other resources for grief, including reading memoirs of loss. Beyond that, we both really enjoyed the tactile aspects of our correspondence. Finding a grief letter in our mailboxes always elicited a smile, as did the process of choosing stationary and stamps each month.
As we wrote and read each letter, we were able to disentangle our complex feelings, dwell on the places where grief resided in our bodies, and discuss how we felt supported (or not) by those in our lives.
Unexpected enjoyment came from the time that goes into handwriting letters. Penning a letter is a delightfully different experience from typing the text messages, DMs, and emails that we each send throughout our hectic days. A slower pace is required to read someone's carefully heartfelt written letter. Likewise, the process of forming each word of our own letters by hand, addressing envelopes, sealing our letters inside them, and slipping them into a mailbox compels us to carve out time to focus solely on the emotional and physical contours of grieving in everyday life. Together, these actions generated moments of levity that seemed to balance, however temporarily, the heaviness of our grief. The letters also manifested something akin to a linguistic hug, something we didn't realize we longed for while traveling along our individual grief journeys.
Our epistolary correspondence became even more beneficial when we discovered another surprising connection. We each found out that we were pregnant again. After sharing our news by letter, we, in turn, expressed how our hopes were woven tightly together with fear and grief from previous losses. Having begun our relationship through a shared knowledge of loss and pain, we now began to bolster one another as weeks and months passed and we neared the births of our children in the fall of 2019. Although we have mostly corresponded by email since Amy's daughter Betty and Joanne's son Ren arrived, we hope to return to our letter-writing. We look forward to adding to our collections of letters and cards that serve as an important archive of our friendship.
Drawing from this incredibly rewarding experience, Joanne created a Grief Pen Pal Network as part of her grief work. Matching up grievers from across the United States and abroad, she offers optional monthly prompts to help the correspondents dig into their grief through their letter-writing. The most enjoyable part of facilitating this growing group of compassionate wordsmiths is encouraging the grievers to attend to the slowness mandated by grief letters and to allow their own serendipitous connections to guide them.
The current state of the COVID-19 crisis necessitates physical distancing, quarantine, and a whole lot of virtual interfacing. Conventional ways of processing grief – including attending funerals or memorials in person and sharing stories in support groups – are difficult, if not impossible, right now. Letter-writing invites a creative, physically engaged mode of grief care that connects people in a way that a Zoom meeting cannot.
The Modern Loss Holiday Grief Swap led to a meaningful connection between us. The correspondence that followed made tangible purposeful, healing social interactions during sad and stressful moments when we felt alone in our grief. We are so pleased that the Grief Pen Pal project can amplify and extend this connection during these painful and grief-ridden times.
Amy Henderson Riley, DrPH is a public health professor at Thomas Jefferson University. Joanne Zerdy, PhD facilitates creative grief and education projects at Inviting Abundance.