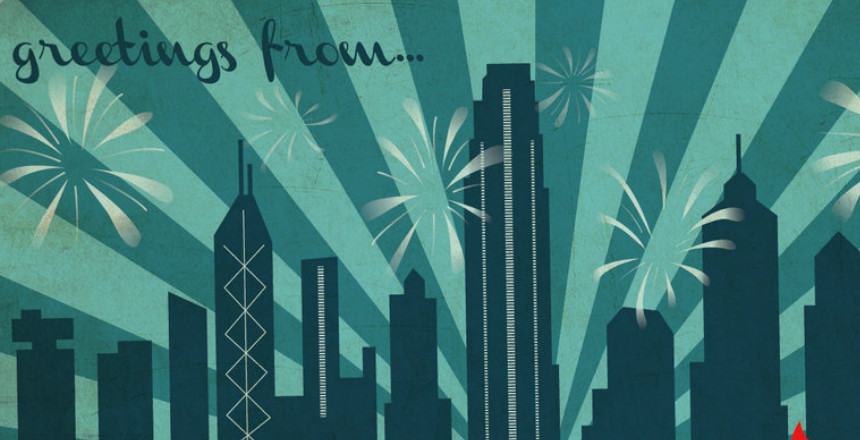 I'm home alone, sitting on the couch. The TV is blaring, but I couldn't tell you what was on. It's Tuesday or Wednesday. Maybe it's Thursday. It doesn't really matter. Kevin is gone. He hanged himself two days ago and it's all I can think about, all I can see.
But then a commercial comes on, and my daze momentarily lifts. It is over-the-top sensational — a panning shot of a beautiful woman in a silk negligee, sitting upright in bed next to a sleeping, shirtless man, an Italian opera playing in the background, two rivulets of blood dripping from the bullet hole in her forehead. Now I'm dialed in. This ad is so bizarre, and I need to know what it's for. The scene fades, a book cover appears, and I get my answer: the latest thriller from author James Patterson.
I stand up and scream, "Are you fucking kidding me?"
Of course it is a book that brings me back to Kevin. We met while we were both working at a Barnes & Noble in Chicago. He was an aspiring comedian. I was an aspiring writer, though I was mostly aspiring to get a full-time job. An hour before our first date, he emailed me a page of two-liner jokes he'd written, "Just to get it out of the way." Most of them were pretty good. He came home with me that night, and that was pretty good, too.
At the bookstore, he often had to compete for my attention with a 60-something-year-old man. Jim was a regular customer, a close talker — so close, in fact, that it was hard to avoid gazing into the grey hair poking out of his ears. He would weave through rows of fiction to find me, always asking about my favorite books, my life. He looked too much like my grandfather for me to tell him to go away.
So I smiled along as he mused on Latin American literature, backing myself into a rack of celebrity weeklies to buy myself one more inch of space. Kevin would taunt me about Jim as we dusted off shelves and re-alphabetized the hardest hit sections after close. He'd come home with me on the 'L' train afterwards, asking when Jim would be taking his place.
One day, Jim found me at the information desk and told me he was going to Asia on business for three months. I was already fantasizing about frolicking through the Jim-less bookstore when he added: "I want to send you postcards. Can I have your address?"
READ: Mom's Words From Beyond … Inside My Fortune Cookie
He caught me so off guard, I quickly said yes and jotted it down — rationalizing that he was just a lonely, harmless old man. I wished him a good trip, he left the store, and my stomach dropped with instant regret.
"Are you insane?" Kevin had said when I told him about Jim and the postcards later that day. "That man is going to murder you. Definitely, totally murder you. The Postcard Killer, they'll call him."
It had a nice ring, The Postcard Killer, and quickly became our longest running joke. Even after we both quit the bookstore and parted cities — me to New York for graduate school, Kevin to California for a fresh start — we always joked about The Postcard Killer and the horrible things he might do with my address.
A month or so after I handed Jim my address, I began receiving his postcards — detailing Buddhist altars, the Leymyo River, reconnecting with an old friend in Hong Kong.
There was no killing. I am alive.
And on this particular day, I am curled up on the couch. It's where I've spent the better part of two days, after I woke up to a note from Kevin in my inbox, sent in the middle of the night just hours after we'd last spoke. In the email, he told me he loved me — the first time he'd said it. He told me he was sorry. He told me he had taken too much, and given too little. He didn't say why he was writing, but while I refused to admit it, my gut instinct knew: This was a suicide note.
I replied anyway. I texted. I called. I called and I called until his phone was turned off and a friend of his emailed me with official word.
Kevin is gone.
And I can't imagine moving on from this. Or even getting up from the couch.
But then the commercial comes on, and the dead woman is poised in her lavender nightie. "The new thriller from #1 bestselling author James Patterson," an elegant British voice relays, and there's a pause — the book cover appears — and then she says it, the title, "The Postcard Killers."
"Are you fucking kidding me?"
I'm standing now, flailing my arms into the air, outstretched like someone might run into them, my feet stomping uncontrollably.
My very first thought is to call Kevin and tell him about it, but I quickly catch myself. I feel my heart sink through my ribs, to the well in my stomach where my shock and grief have been conspiring to keep me stuck for days.
Then I start to laugh. The tears are coming now, salty and fast, and I'm crying, yes, but I am laughing loudly, howling even. The TV moves onto whatever show I wasn't paying attention to before. And like never before, I am convinced of something I cannot see, cannot explain. I get the undeniable feeling that Kevin did this for me, one last joke, and I want to make fun of myself for even thinking it, but it's true — I feel him there in the room.
I look up, like I might see Kevin's face in the ceiling, a ghost in a light bulb, laughing, too.
Molly Tolsky is the editor of Kveller.com and senior editor of No Tokens. Her work has previously appeared or is forthcoming in Hayden's Ferry Review, Lumina, The Collagist, MAKE: A Chicago Literary Magazine, and elsewhere.