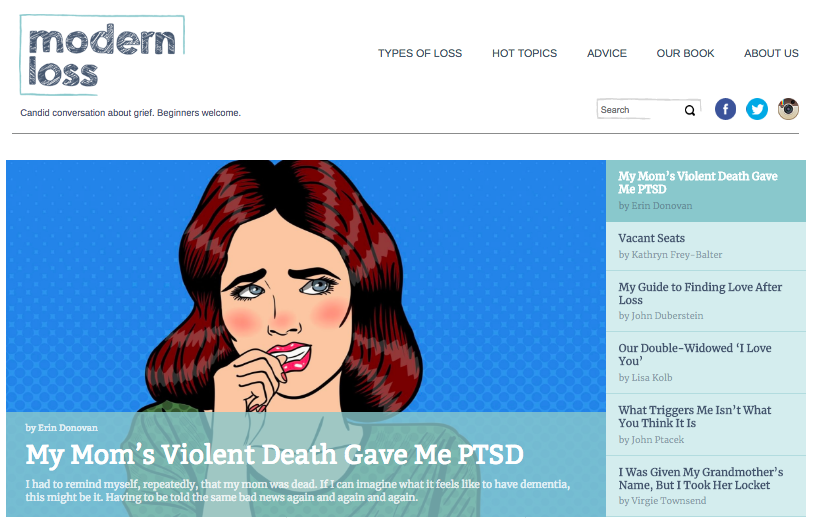 Modern Loss — a content website that the New York Times hailed as "redefining mourning" and the basis of a recent book praised by Mindy Kaling and Stephen Colbert — is looking to redesign its homepage. This is a limited-scope, design-only project with a budget of $1,500.
ABOUT MODERN LOSS: The site was founded four years ago by Rebecca Soffer and Gabrielle Birkner; both women lost parents as young adults and struggled to find digital resources on grief that spoke to them. With two decades of media experience between them, they decided to create an online publication about the messiness, melancholy and dark hilarity of living with loss. The site publishes personal essays and resources geared largely to readers in their 20s, 30s and 40s.
ABOUT THE PROJECT: This is a design-only project, as Modern Loss is happy with its existing developers. The goal of this redesign is to modernize the look of the homepage, improving its visual appeal (on desktop and mobile). Modern Loss wants to simplify the design in order to improve the experience for users and site administrators.
Code implementation and any changes to functionality would likely be handled by Modern Loss' developers. The client would facilitate contact with its developers regarding specs and allowances/limitations of its content management system. The designer would provide Illustrator (or similar) files to the client and the developer.
Modern Loss is home to more than 500 pieces of content and continues to publish multiple pieces a week. It is, therefore, imperative to find a designer with experience working on content-heavy sites.
HOW TO APPLY: Interested parties should submit a short bio, up to 3 relevant examples from their portfolio and a link to their website to:
Gabrielle Birkner
Co-Founder/Executive Editor
gabrielle@modernloss.com