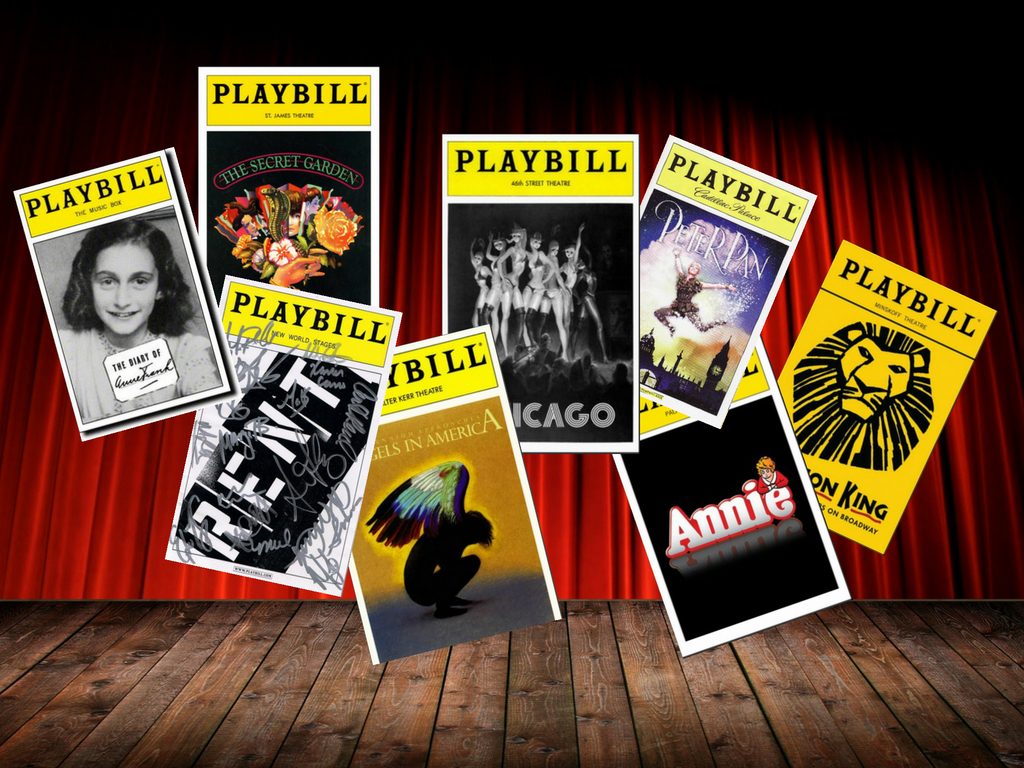 I had this ritual when I used to go to a lot of Broadway shows. I flipped right to the spread in the Playbill which listed all of the hit shows and counted the ones I had seen. The number was always high.
My mother took me to see just about everything on Broadway. Her favorite musicals were the ones that left her "singing up the aisles" and well into the train ride back home in suburban Philadelphia.  In 1981 she took me to my first show, Annie. I fell in love with little orphan Annie, her sunny disposition and her can do attitude. She reminded me of my mother. When Annie sang about the sun coming out tomorrow, my mother and I nodded, singing in our heads right along with her. Soon after, we went to see Peter Pan. When Sandy Duncan, in the lead role, asked us to clap if we believed in fairies, my mother clapped faster and louder than anyone in the theater. I think she alone may have saved Tinkerbell during that matinee.
When I was in high school, my mother and I couldn't talk about anything without winding up in some forgettable fight, thanks to both my changing hormones and her propensity to never let me feel bad about myself. But we'd go to the theater and magically get along. She held my hand from her tiny seat next to mine, and I squeezed her hand right back no matter how mad I thought I was supposed to be at her. One snowy Saturday afternoon, I teared up during The Secret Garden, appreciative of how lucky I was to have my mother be my mother. I felt so sorry for Mary Lennox, the lead character whose parents didn't want her and later died while she was still so young.
Our theater dates kept going even when I was away at college at The University of Pennsylvania. The physical distance that came with my growing up and leaving home made our crammed together seats feel all the more special. After seeing Angels in America, we talked about Ethel and Julius Rosenberg and McCarythism as I tried to show off my newly formed interest in recent American history. We sat together and sang the "Pinball Wizard" and "Tommy Can You Hear Me" off-key over salads after seeing The Who's Tommy, the rock opera. I was proud to have discovered and suggested to her that we see that show.
In late 1996 we saw Rent. Ironically, the show that killed off some beloved characters to AIDS would be the last one I remember being truly happy at with my mother. In early 1998 she was diagnosed with cancer.  
I can trace the stages of my mother's cancer through each show we saw together from that point on. During Chicago I could barely focus as my mind drifted to the what ifs of her experimental cancer treatments not working. We were also in a fight because she wanted to invite my new boyfriend to the show and I'd said no, it was too soon. The boyfriend became my husband. I should have invited him. She was right —  as usual.
I cried during the Diary of Anne Frank. For obvious reasons, but was also thanks to the unwelcome images of what my mother would look like if and when she got really sick. My mother took me and the boyfriend to The Lion King. We were the only ones in the audience without kids. I cried for my future unborn children, who I suspected would never know their grandmother, and for the future grandmother who would never take her grandchildren to her beloved theater.
My aunt took me to see Wicked a few months before my mother died to boost my spirits. It didn't work. My mother was in the hospital, getting one of her last experimental treatments with my father and my other aunt by her side. We left the theater during intermission, too sad to appreciate the clever story behind The Wizard of Oz. I knew how Wicked would end, and by that point, I most certainly knew how my mother's would.
The theater went dark for me for nearly a decade after her death. I'd read about hit shows during that time but couldn't bring myself to buy a ticket. I told myself I was too busy with my own young kids to drop everything and go to a performance. When my mother used to call with an invitation to the theater, I dropped everything to go with her.
In 2014 I bought tickets to see Beautiful. I'd heard it was incredible to watch the story of Carole King's life as told through her songs. My little kids had somehow gotten big and were away at camp. I was out of excuses and asked a few girlfriends to go with me.
I sat in my tiny theater seat gripping my own hands together and holding back tears so tightly that I developed a massive headache. The release came somewhere toward the end of the first act. Like many other theatergoers that day, I cried for Carole King — for her truly beautiful life story and for the heartaches she endured. But really, I cried for my mother. The shows she had missed. The life she had missed. And for the rest of my life, which she would also miss.
I imagined an older version of her, holding my hand and singing in her head alongside me. And I couldn't help but wipe away my tears and smile. The smile, I am told, that comes from her.
I knew my mother would be happy I was back at the theater — that I might just leave "singing up the aisle" after that performance that day. And I did.
Rachel Levy Lesser is the author of four books. Her newest book, Life's Accessories, will be released in 2019. Her work has appeared in The Huffington Post, Glamour.com, Parenting.com, Scary Mommy, Kveller and more. When not writing, Rachel can be found practicing yoga, practicing her golf swing and nearly perfecting her baking of the chocolate chip cookie.