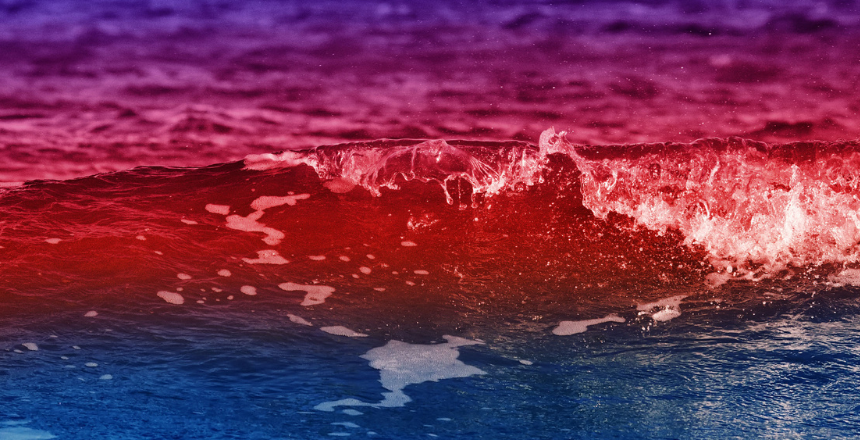 "Mom, look!" my twenty year old daughter said from the passenger seat, pointing at a passing van. We were on the freeway, driving home from a late summer beach day where we enjoyed a long walk on the water's edge, sand and ocean caking our feet. It was my favorite kind of beach day – very few people, a choppy ocean and a shining sun. We linked our arms together and I said, "If we were the same age, I'd want you to be my friend." "You always say that," she said. She then grabbed a stick, foamy from the ocean, and wrote our names in the sand with a heart underneath it. 
We were heading home when she pointed out a van driving next to us with the words "Joel's Plumbing" in big, colorful letters. The JOEL was much bigger than the other words on the side of the van but we both started laughing. "Oh my Gd!" she said, "What's Daddy trying to tell us?" Before I could answer, the song "Driver 8" by one of my late husband's favorite bands, REM, started playing on the radio. My daughter and I looked at each other, "Oh my Gd!" we said in unison. That's when I started to cry. 
Joel was (and still is) my husband and my daughter's father, and he died unexpectedly seven years ago. My husband had MS but he went to the hospital with flu-like symptoms. The most I thought I had to worry about was that my daughter and I might catch whatever it was that he had. But when they admitted him to the ICU, my gut told me this wasn't just the flu. I thought it might be a reaction to the new medication he was taking for his MS, but truthfully, I had no idea. There was confusion, there were many tests, and one night in the hospital turned into four. That's when the doctors started telling me that my husband was "gravely" ill.
After some debate, I moved my husband to a different hospital, one where his MS team could manage his care. It was a scary and uncertain time. My husband was in a coma. He was on a ventilator. Tests kept coming back negative. The doctors made educated guesses about his condition but kept circling the idea that it was a virus. This was in 2013, when conversations about viruses were rare. 
Tests that were done at the first hospital were repeated. This time, one of them came back positive. Three weeks after he was first admitted to the ICU, my husband died of West Nile Virus. It was and continues to be shocking, although sitting here now, seven years later, dying of West Nile Virus – a mosquito bite! – almost feels quaint in the age of coronavirus. 
I feel like a pioneer of sorts. Every single day there is talk of "the virus." Every single day, someone dies from Covid-19. Many people do. There seems to be no rhyme or reason to it. Some are old. Some are young. Some have underlying health issues like Joel did. There has been so much death, followed by so much grief.  How are we as a community, a country, a world, supposed to manage all of it? It is infuriating, senseless, and tragic.
Seven years ago, my loss was my own. There was no Dr. Fauci offering sound reasoning, no CDC guidelines to follow, no warnings from anyone other than the occasional neighborhood sign about the influx of "dangerous" mosquitoes. I learned a new language at the time and now I speak virus fluently. Most viruses are similar in the way they start out, most if not all, have no cure, and they have to run their course until they are done wreaking havoc, often ending in ways that are unimaginable.
As I was living through it, I wholly relied on the doctors and nurses who were determined to solve the mystery of what was making my husband so sick. Between late night phone calls to the hospital and all of my tears and shock, I would google kinds of viruses or what happens with a high fever or encephalitis as our daughter slept in our bed. No one who had come before me was there to offer me counsel or guidance or hope that I would survive what was happening, because there was no one, no one who I knew anyway, who came before me. 
Most viruses are similar in the way they start out, most if not all, have no cure, and they have to run their course until they are done wreaking havoc, often ending in ways that are unimaginable.
Now, there is nothing but after. We've been wearing masks and social distancing for nearly a year. We've seen businesses close and then reopen, and then shut their doors for good. Needed and necessary changes are coming, but by now, we've all heard of someone we know personally – the relative of a friend, someone's teacher, a neighbor – who has survived or died of coronavirus. It is overwhelming. And now familiar. No longer as shocking as when Joel died of a different virus, one that lurked, unsuspecting, in a backyard, on a swim, or an evening walk. 
Time has helped ease my grief, but my grieving hasn't stopped. The world, it seems, has caught up with me.
My husband left behind a full life. A life that included me and our daughter who was thirteen at the time. He left behind his parents, step-parents, a sister, a niece and nephews, and too many friends to mention. He left behind his business and his record collection and baseball cards and yoga mat. He left behind his wallet (which had $42 dollars in it), a few guitars and the suit he wore to our daughter's Bat Mitzvah six months earlier. To say we were devastated by his death is an understatement. To say that I have no idea how I was able to move forward without him is an absolute truth.  
Our daughter is no longer a teenager. My husband missed her middle school graduation, teaching her to drive, seeing her off to prom, then college. The missed moments feel endless. So when we see a plumbing van with his name emblazoned across it, or a song on the radio from one of his favorite bands – we wonder what it is he's trying to tell us. "What is it, hun?" I shout out. "Should we buy a lottery ticket?" my daughter yells. 
But we do not receive a response. Only the knowledge and hope that at times, Joel is still with us. On the freeway, sun kissed from our cold day at the beach, where my daughter and I spent an afternoon together, just the two of us.
Melissa Gould's essays have appeared in The New York Times, The Los Angeles Times, The Washington Post, Buzzfeed, and more. Her memoir, Widowish: A Memoir (Little A, 2021), is out now. Find out more at www.widowish.com and follow MelissaGould_Author on Instagram.