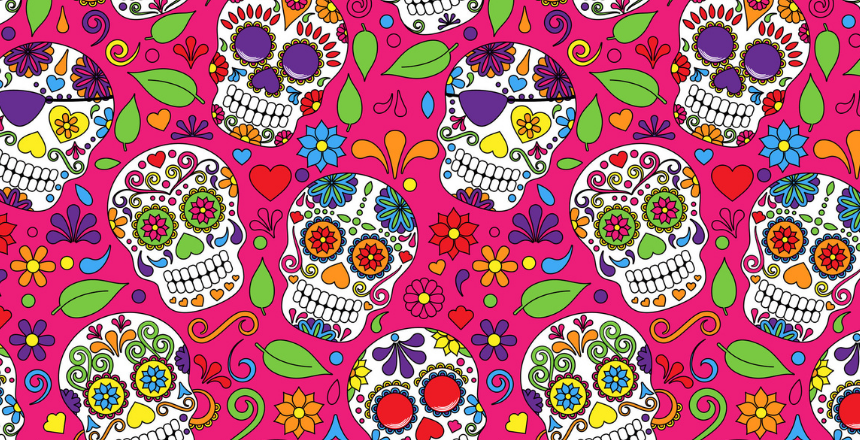 After marrying my Mexican husband, I knew it would be crucial to pass on his culture and traditions to our children. I didn't know one of those traditions would become a sacred source of healing for me.
In 2017 we celebrated Día de los Muertos as a family for the first time, which also happened to be my first time celebrating the holiday. We hung up pictures of my dad and our grandparents, we attended community events and ate Pan de Muerto. Our children, ages 1 and 4 at the time, loved seeing the brightly painted calavera skulls and listening to the Mariachi play. 
On November 2, as the holiday began to wrap up, our celebrations came to a screeching halt when my mother was killed in a car accident. She was only 51, and I was only 29. I had already lost my father to a stroke in 2010 and I naively believed I had already endured the "unexpected death of a parent" trial. Somehow I felt my mom would be immune to death until reaching the ripe old age of 98. As a result, I was outwardly angry and bitter, quite a contrast to my typical light and bright personality. That anger, manifested as brutal honesty, took some of my friends and family off guard, so I quickly learned to rein it in and keep to myself. 
All year I had to hide my feelings — and, essentially, hide my mom. People with living moms could casually discuss them in conversation, but if I mentioned mine, even with joy, the tone of the conversation would change, and eyes would brim with pity or discomfort. The alternative was equally soul crushing: hiding away someone who continues to shape the way I live my life, as if she simply ceased to exist. I had already lost a parent once, but losing another one was a million times harder. Grieving was harder, living was harder, without another parent to look to for help.
Two years later, we were invited to a community event where participants each set up an ofrenda, a table filled with pictures and objects that tell our deceased ancestors' stories. I was nervous about properly honoring such a special tradition from a culture that isn't my own, but with the help of my husband we created something that brought both of us tremendous healing. On one side of the table my husband set up pictures of his ancestors with all of the traditional elements displayed, such as food, fruit, water, candles. My side was clearly gringo, with my Dad's AC/DC record and my Mom's sugar cookies amidst pictures and newspaper clippings. 
The act of setting up the ofrenda was incredible on its own, but it became a catalyst for something even greater. During the event, complete strangers began to approach us, asking that we share the stories of the people displayed on our table. Every inch of me was filled with gratitude, mourning, joy, compassion, as we equally shared and received with so many strangers. That experience transformed my attitude on grief from something to hide to something I could proudly share.
I feel so fortunate to have married into a Mexican family where I have been able to authentically participate in Day of the Dead. I'm immensely grateful for the friends and family within the Latinx community who have welcomed me into their homes and shared their sacred traditions. They have given me, and my family, the gift of healing and a stronger connection to our deceased ancestors. Now, each year, as we simultaneously celebrate Día de los Muertos and grieve the death of my mom, I feel free.
Madison lives in Utah with her husband and 3 children. Follow along on her journey to raise bilingual/bicultural kids at @parenting.sinfronteras.