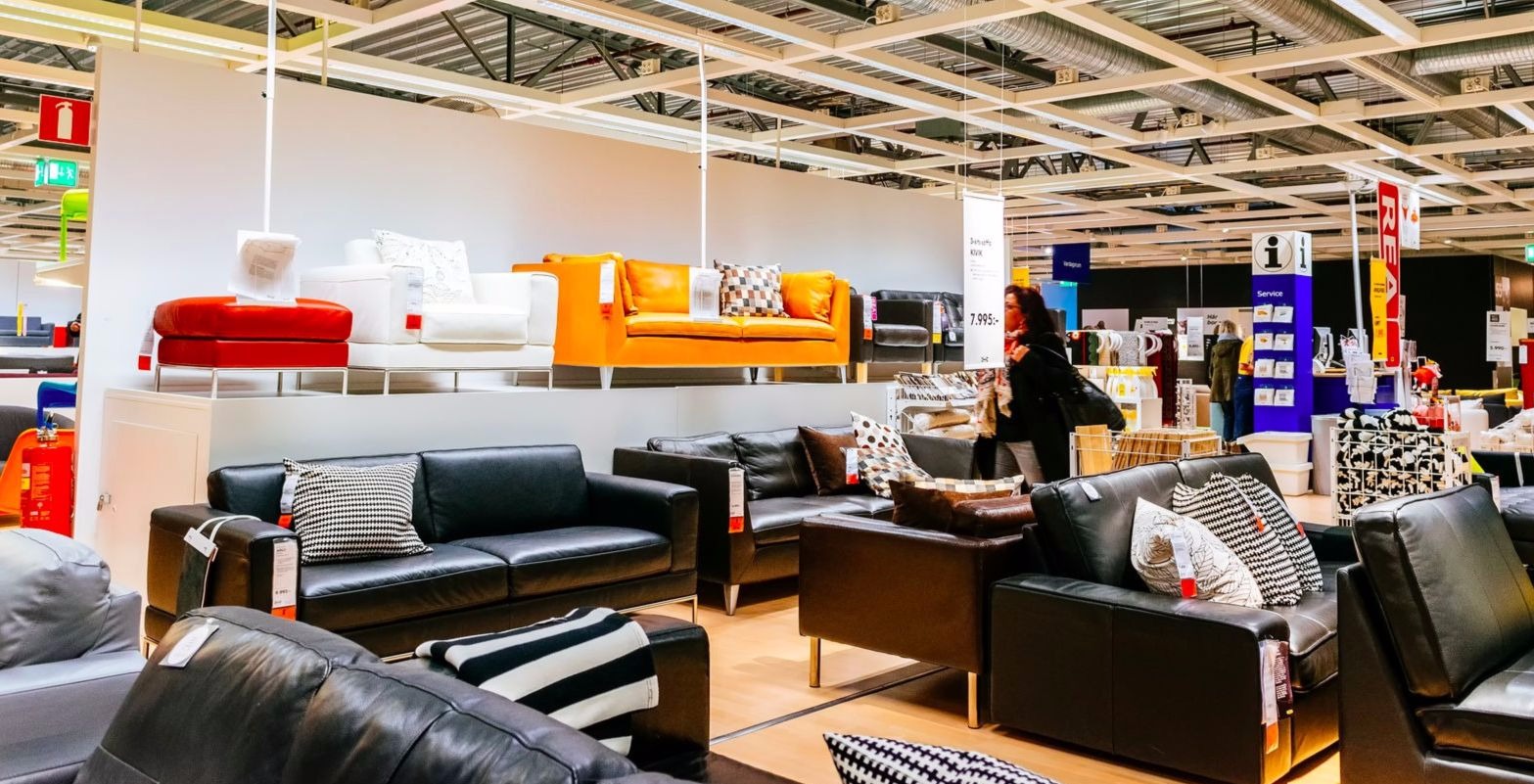 In February a two-level IKEA opened right next to the former one-floor store 15 minutes from our house. My husband and I were up early to arrive at 9 a.m., when breakfast was served: Swedish pancakes, scrambled eggs, sausage links, and potatoes all for four dollars. I guzzled espresso and then an Americano, which were free with our IKEA family membership. The caffeine surged through my veins. My mind raced. I couldn't wait to shuffle along the marked show room pathway to explore all that was inside the store.
What is it about IKEA that draws me in, calling me to try out the Ektorp sofas and fawn over the Hemnes dressers and TV stands? And why do I always need to leave with some sort of Swedish dala horse potholder or cookie cutter set, in addition to the clothes hangers that were the original intention? The housewares are great, sure, but it's more than that, too. It's also my (yes, wildly commercialized) way of keeping my Swedish grandmother's legacy alive.
READ: Lin-Manuel Miranda Helped Me When My Abuela Died
My grandmother, Brita Johnson, died in 2010. She was a traditional Swedish matriarch. Everything about her reminded me of our family's Scandinavian roots. She had journeyed by boat to Ellis Island when she was 3. A tiny, well-worn doll sat on a shelf in her kitchen when I was growing up, and she'd repeat the story over and over about how she wasn't allowed to bring any toys on the trip, and yet this tiny doll stowed away with her. While exploring an area filled with old castles during a family trip to Sweden, my grandmother remarked that we needed to be careful because we might be "thrown out" since my great-great grandfather was the illegitimate son of the king at that time. We nodded along solemnly.
READ: I Cherish Mom's Recipe Box
Grandma's death struck deeper than I thought it would. My mother had passed away when I was 12, and my grandmother was a primary support to me during middle and high school. She lived down the street, and there were regular dinners, overnights, and visits after school with her and my grandfather. I still have the emails she sent once or twice a week, and the digital pictures that were taken at holidays and other celebrations. When we moved into our new home, I made sure we had Swedish horses on the mantle to guard and protect the living room. I fumble in the kitchen at Christmastime with molasses and orange rind to make traditional pepparkokor cookies (recipe below). I will continue to do what I can to keep her memory alive.
And so, last month in my highly caffeinated state, seated in the bright and airy IKEA dining space, I couldn't help but imagine the comforting image of meeting my grandmother there for breakfast and coffee. In our imaginary meal together, she'd dispense decaf instead of my preferred espresso. She'd then ask, "What do you know?" like she always did at the end of emails. I'd tell her about my job, my new home, and ask her advice for how to bake the Swedish coffee cake (recipe below) that I couldn't get quite right this year. She'd smile and whisper some secret method. Then we'd wander through the individual show rooms to try out the reading chairs, laughing at the staged rooms with nature books written in Swedish.
That morning, waiting for my husband to return to the table with our beverages, I tweeted: When Swedish people die do you think we all get to hang out a big IKEA? I'd love to chat w my grandmother over $4 breakfast. When my grandmother was alive, she had visited her local IKEA store, in Stoughton, Massachusetts, at least once and pronounced its name EE-kay-uh; maybe she knew something the rest of us didn't.
Pepparkakor (Swedish Ginger Cookies)
½ pound butter
1 ½ cup sugar
1 egg
1 tablespoon molasses
grated rind of an orange
4 tablespoons orange juice
3 ¼ cup flour
2 teaspoons baking soda
3 teaspoons ginger
3 teaspoons cinnamon
1 ½ teaspoon cloves
Cream butter and sugar. Add egg, molasses, orange rind and orange juice. In a separate bowl, mix flour, baking soda, ginger, cinnamon and cloves. Mix gradually with wet ingredients. Chill in the refrigerator overnight. On a floured board, roll out very thin and cut with cookie cutters.  Place on cookie sheet and bake at 325° for 8 to 10 minutes. Watch carefully.
Swedish Coffee Bread:
The version is a double recipe and makes two loaves.
2 packages active dry yeast
½ cup warm water (105-115º)
½ cup lukewarm milk, scalded then cooled
½ cup granulated sugar
1 teaspoon salt (I usually use a little less)
2 eggs, at room temperature
½ cup shortening (or half shortening, half butter [at room temperature], for a richer flavor)
1 teaspoon ground cardamom
4½ to 5 cups all-purpose flour
Dissolve yeast in the warm water. Mix together the warm milk and the warm water+yeast. Add the shortening and granulated sugar and mix together. Add the salt and eggs, and mix. Add 1 tsp. ground cardamom. Gradually add 3 cups of the flour, while mixing at a slow speed until smooth. The dough at this point will still be very wet.
Gradually add more flour while mixing, just until the dough starts to get dry enough to pull away from the sides of the bowl. Just when the dough is starting to pull away from the bowl, dump it out onto the counter or mixing board, and do the rest of the mixing and kneading by hand. Gradually add flour, bit by bit, by dusting the board and kneading the flour into the dough. Knead the dough for a total of about 5 minutes, until it gets smooth and elastic, but is still a little moist.
Place in a greased bowl, cover, and let rise in a warm place for about 90 minutes, or until the dough doubles in size.
Divide the dough in half, and each half into thirds. Roll the thirds into round "logs" and braid the logs together to make one loaf. Do the same with the other half of the dough.You can brush the tops with melted butter and sprinkle cinnamon sugar into the "valleys" of the braids. Or you can brush the tops with butter or an egg wash and sprinkle Swedish pearl sugar over the tops.
Then cover and let rise till doubled. Bake at 375º for 20-25 minutes.
Emily Kolby lives outside of Seattle with her husband and dog. She works as an academic advisor at a local college, and is at work on her first novel. She's on Twitter @emackolby.