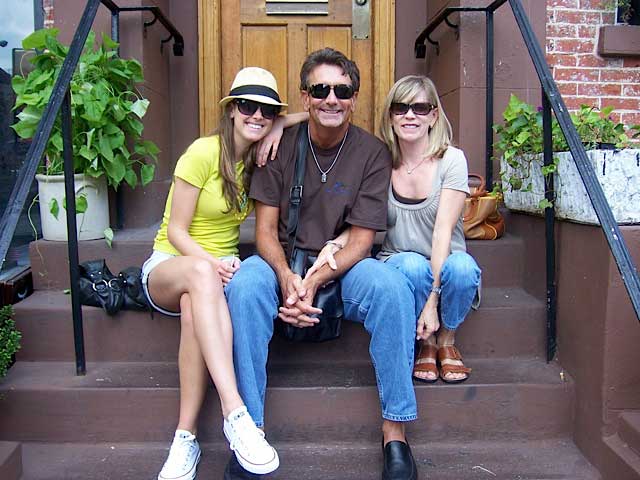 It was Sunday, March 25, 2012 and the beginnings of spring were starting to take life in New York.
In springlike fashion, I'd brunched with friends, shopped, and done yoga. I bought a sundress. Everything was in step. Then I got back to my apartment and saw my brother's missed call.
I was met with wailing screams on the other end of the line. "Stevan, sit down. Promise me you are sitting down." You know how they say that in that moment, you just know? He didn't have to say the words. My parents had been killed in a small plane crash. They were returning from our vacation home in the Bahamas with their best friends.
There were no survivors.
The small, single engine passenger plane had taken off from Treasure Cay around 1 p.m. Somewhere between take off and my brother's call at 3 p.m., their plane had gone down. There were no eyewitnesses to the crash, and it was determined that a freak wind shear had taken the plane down just as it climbed above the tree line. The airport employees noticed smoke rising about a mile down the runway and rushed to the scene. What they found is an image that I've asked never be repeated to me. But it must have been horrific because the plane exploded on impact after crashing sideways in the rocky woods.
My dad was an incredibly meticulous pilot; I'd flown with him frequently and my mom always assured me there was nothing to worry about whenever they flew on their own. But I did worry. I worried every time they flew to and from the Bahamas because up until the plane crash, my life had been relatively untouched by tragic loss. Even though I was only 26, I was smart enough to realize nobody is immune to an experience that can suddenly gut one's existence.
Prior to the accident I was living in New York City and working in public relations. The night of the crash I flew home to Florida and never looked back. In immediate aftermath, I was inside a bubble protected by my boyfriend, family and friends, with love and support as the only feelings allowed inside. It felt good. Like even though the worst had happened, everyone else was stepping up to take care of me forever and ever.
Related
But after the funeral, the bubble burst. My protectors got back to their lives. Grief, pain, and loneliness invaded my physical and mental states. More than anything I was scared – scared someone was going to break into my house and kill me. Scared that every time my boyfriend or brother got into their cars, I'd get a call that they were dead. Scared to open the bills piling up in my mailbox since until then. I'd been sharing a 1,500-square foot apartment and hadn't a clue about homeowners insurance, flood insurance, homeowners association dues, or property taxes. Scared to take care of my grandmother, who was in a nursing home with dementia. Scared to co-own a business I knew nothing about. Scared to be the adult after the real adults suddenly vanished.
A month after the accident, I was in my parents' kitchen boiling water when a deep wail barreled out of my throat. I keeled over and shut my eyes as tight as they would close. I'd hit rock bottom. Up until that moment, I'd been too scared to admit they were gone and never coming back. But finally, I got that mom wasn't out running errands. Dad wasn't at work. They were gone. I had lost the loves of my life and was terrified to go on without them.
Even though I knew I had a "right" to blame my negative energy on this unthinkable loss, I knew it would be better to face the grief and seek counseling. I didn't want to be depressed forever; for my own sanity, I wanted to heal and honor my parents by living a life they would be proud of.
It took at least a year and a half. But I started grabbing my fear by the horns. It didn't matter that my long-distance boyfriend and I had just reconciled; he was keeping me sane and it felt good to be together so we moved into my parents' house. I was clueless about what my Dad did for a living, but I could promote anything, even concrete. So I made myself Director of PR and Marketing for our family's concrete construction business. I didn't know how to travel with someone who had IBS, but I had seen my Mom do it, so I took my grandmother to visit her first cousin in North Carolina because it made me feel good to see her happy.
I really am someone who does believe God has a plan. But I also believe accidents happen. The accident was a nightmare that, honestly, I still live with. Had it not been for one ripping away the two people most precious to me, though, I might never have had the opportunity to grow.
But then again, I'll never know.
Stevan Schwartzenberger Brown is a public relations professional from Jacksonville, Fla.; along with her brother she also co-owns and operates her family's business, EC Concrete.