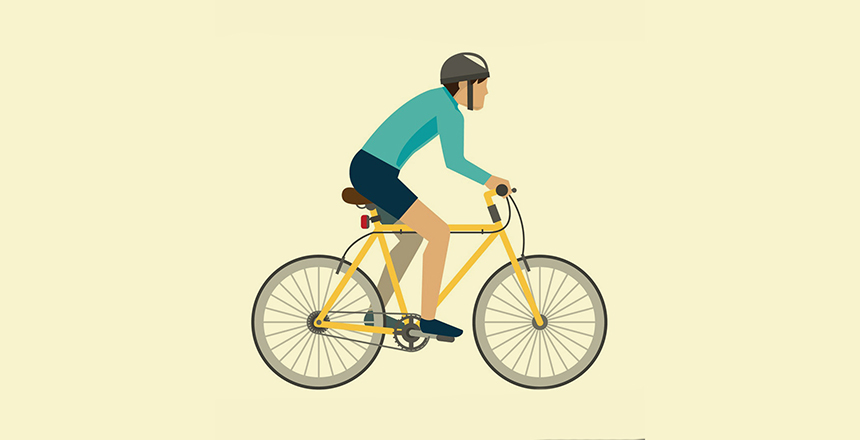 "I'm heading down to the basement to get my bike," my 14-year-old-son said, his nearly six-foot frame whizzing by me.
School had just ended days before. Since the final bell rang, announcing the first of ten weeks of summer vacation, his friends had been riding their bikes around town—to the basketball courts at school, the town market for sandwiches, and each other's houses.
I hesitated, as if I had heard him wrong. He wants to ride his bike. This simple statement excited me, but it also made me anxious. Nearly a year beforehand, his childhood friend had died in a tragic bike accident. It happened one summer afternoon half a mile from his home, in our town, while he was riding with a couple of friends. A bump in the road's asphalt, a freak accident, a devastating loss.
After the funeral, my son had many sleepless nights; I tried to comfort him, reassure him as his eyelids grew heavy. But how do we best explain to our children why bad things happen to really good people, to a dear friend, to a 12-year-old boy?
Since the accident, my son had turned 14, finished middle school and pitched and played third base for the local travel baseball team. He'd even started to shave.
But he wouldn't ride his bike.
Related
Uninvited, I followed him down to the basement and saw what he saw: His bike, which had acquired a layer of dust on the chains, spokes, and handlebars, now looked cartoonishly small for him. He'd shot up more than four inches in a year. Suddenly he grabbed my larger bike, the ruby red one my husband bought me for a big birthday. "Need help?" I asked, not sure whether to give my son space or hold him close. "Nope I got it," he answered, pulling the bike up the basement steps, the sound of the rubber tires bumping up and down along the way.
In our driveway, he pumped air into the tires. His old helmet didn't fit so he put on my hot pink one, not flinching at its brightness. Small details like that didn't seem to matter to him now. Instead, he hopped on the bike and rested his size-12 feet on the pedals. "Bye, Mom!," he yelled as he shot forward, heading toward the school basketball courts.
I wanted to yell back, "Text me when you get there!" but I didn't. My own discomfort of "what ifs," of everything bad that could happen, of holding on too tight, were my issues to contend with and get over. He needed to feel the lightness of riding a bike on a summer day, the wind blowing in his face, the sense of freedom and independence. And I needed that for him too.
My son learned to ride a bike when he was four, a young age to want to take off without his training wheels. With his little bottom on the saddle, he pedaled and pedaled, twisting the handlebars to help find his balance. Even then, he didn't seem afraid the first time he pedaled away. And, up until a year ago, he'd kept moving forward, further and further away.
Slowing down the passage of time had been the very thing I longed for since the teenage years began—not realizing a year into it, when or how my son would move forward again. The death of my son's friend was a devastatingly sad reminder how much I had wanted to freeze this age, to hold on to these years. But it also reinforced an even stronger desire to be able to watch my son grow. My maternal fears of "what if" might still remain. But I must once again learn to let him go.
On a sunshine-filled afternoon, I stood where my son couldn't see me, peering out my front window. My son rode off. The leafy branches around him swayed, then stilled. He did not look back.
Randi Olin lives in Connecticut with her husband, two teens, and a quirky chocolate Labrador Tobey. Her work has appeared in Brain, Child Magazine, Role/Reboot, among other publications. She is the Managing Editor at Brain, Child.