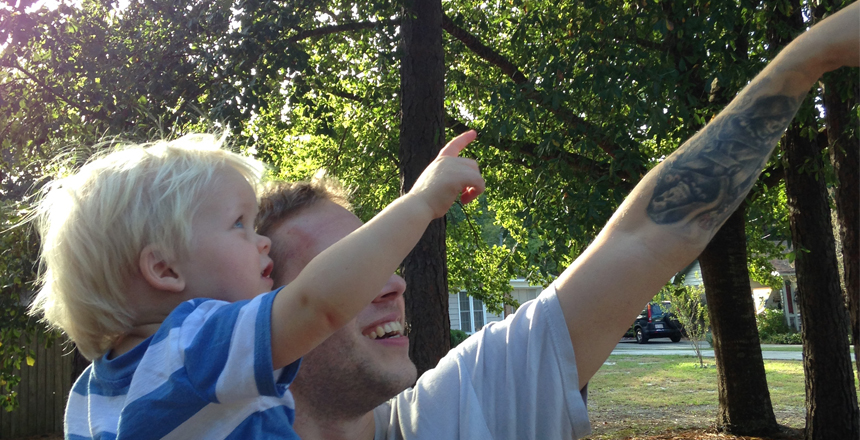 When my son was a newborn, life felt slow and small. For days on end, there were only these things: the four walls of my bedroom, the kitchen for coffee that was lukewarm all the time, my breasts and their milk that soaked my shirts and sheets, that made my baby stop wailing without fail. The house smelled sour and stale, but it was too frigid to go outside. It was the dead of winter in New England. Some days I felt insane.
The first time I ventured out with my son bundled up in a stroller, I saw my neighborhood with new eyes. The tall pine trees, stripped of their leaves, the bland-colored colonial houses, the home-daycare down the street with dirty toys scattered on the lawn, the colossal snow banks smudged with dirt. Where had it all been before?
I became bolder and began walking more, despite the bitter cold weather. We took the same route, walked the same loop, every single time, so as to not get lost. It'd be one thing if I was by myself, but now I had this baby, 24 hours a day. I memorized the uneven road, the alligator cracks in the gravel, the snow banks with yellow spots, the houses with porches. 
I memorized my baby's face: his ski-jump nose, biscuit cheeks, pouty lips. I memorized his expressions: the gas smile, the real smile, the pterodactyl scream. I memorized his touch: frantic bobbing for the boobs, easeful melting into me. I memorized his smells: the potent poopy diapers, salty wet pee, the clean, pure, sugary skin, heavenly hair, sweet breath. I memorized his sounds: the coos, the cries, the coughs, the grunts, the giggles.
Related
I tried to talk to him on our walks. That's what the books said to do. Point things out to your baby. Describe the world around you. It may feel pointless, but babies absorb much more than we think.
When my mother was dying, seven years earlier, the hospice nurse told me that she could still hear.  She was unresponsive and had been fading in and out of consciousness for days, but the nurse insisted that her hearing was intact. "It's the last thing to go."
I didn't quite believe it. But I had so much to tell her that I told her anyway. I described the world inside me over frantic sobs. I will be lost without you. Why hadn't I said it sooner?
When my mother learned she had terminal cancer, she told me we were lucky, in a way, because not everyone gets the chance to say goodbye. We had time to love each other fully, to express ourselves openly, and if not now, when?
When I was a new mom, I didn't love talking aloud to a baby that couldn't talk back. It was boring and I was exhausted and it went against my nature. Most of what whirls around in my head never makes it out of my mouth. Alone time, quiet time, is what feeds me and fuels me. I craved personal space and time those endless postpartum days, and I didn't quite believe that my new bundle could understand me. I preferred to stare at him and stroke his hair in silence. 
But there seemed to be a lot at stake, so I talked to him anyway. 
"Look, baby, there's a bird." 
"There's a rock."
 "There's a window."
"Hear that vroom? That's a motorcycle. Cool."
I'd peek over the stroller to see his eyelids drooping, drool pooling on his chin.
That baby is almost two-years-old now, and life feels larger and faster. It's growing around us every day. My son points things out to me now.
 "Look, Mama, there's an airplane!" 
"There's a polar bear."
"I hear a motorcycle."
 He watches me expectantly with wide, twinkly eyes.
"Cool!" I say, a few seconds too late.
 "A polar bear, are you sure?"
Sometimes I forget to look; I hate that, but I do. I'm back in the world in my head, wishing I could hibernate there for a while. No such chance with a toddler. He tugs at my shirt until I gaze up. Yes, there is an airplane that I'm seeing through your eyes, the hum of the engine, just a spec in the clouds, white smoke trailing over the robins-egg-blue sky. I study my son's face — the same biscuit cheeks, thinner now — pouty lips upturned into an unmistakable smile.
I don't quite believe that I'll ever deserve this child, but I give myself over to him anyway, chitter-chattering with him every day. The other morning, I told my mom about him. That's what the books say to do – imagine the person you lost can still hear you; imagine what they'd say back. I always felt quite silly doing this, preferring to sit with my grief in silence. But something has shifted in me, like the frosted ground thaws and flower buds poke through the earth. The strange, gorgeous creature I pushed out of me two years ago – though it feels like yesterday, and a lifetime ago – has pulled me out of my comfort zone ever since, like yarn unspooling, drawing me out, or perhaps back to a place where I lived as a child – in the present, in this moment, where I hear birds singing and I taste the warm rain. 
My imagination is nowhere near as big as my boy's, but I whispered to my mom anyway, as we walked a familiar path in the woods. I told her that my son — her grandson! — is teaching me to stop and smell the roses, to crawl out from the recesses of my mind and just look at that damn airplane. Because if not now, when?
Emily Page Hatch is a freelance writer, therapist, and mother. Her work appears on Babble, The Huffington Post, and other publications. You can connect with Emily at www.emilypagehatch.com, and on Twitter @EmilyPageH.