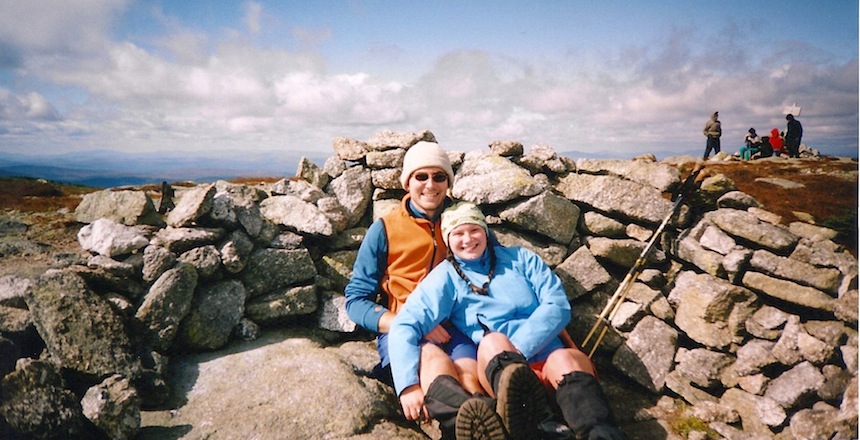 Just before 10 pm on March 22, 2014, my 31-year-old husband died in my arms. Though I had spent almost all of the previous 48 hours by his side, the last breaths started when I was in the living room updating our families. When I returned to the bedroom, I knew viscerally what was happening, but I begged my brother (a fourth-year medical student at the time) to search for a heartbeat.  As I held my husband, my brother shook his head. There were a few more breaths, an eternity between each, and then they ceased. A few minutes later I brought our three-year-old daughter in to say goodbye.
Related
Before the brain tumor, seizures, and treatments slowly chipped away at his quality of life, my husband Steve was a great outdoorsman. We met on a backcountry trail crew, were married on Saddleback Mountain along the Appalachian Trail in western Maine, and spent our honeymoon in Cape Breton Highlands National Park in Nova Scotia. Steve did trail work professionally for thirteen years, and he loved teaching others about the intricacies of rock staircases, chainsaws, and timber bridging. He was always happiest on a trail and in the woods.
Towards the end, I remember talking with his hospice massage therapist about how we wished we could get him outside one more time. It was early March in Maine, and it had been a long, bitter winter. By then Steve could no longer walk and I worried that even if I managed to get his wheelchair past all of the furniture and hospice equipment and over the threshold onto our icy deck, I might not be able to get him back inside. A couple of days later, he became bedbound and began rapidly losing function. By the time he died, it had been almost three months since he had been outside. That spring, the snow on the ground held out well into April.
In late July, a couple of close friends and I made the trek up Saddleback together with Steve's ashes tucked carefully in my pack. It was a difficult twelve-mile hike, both emotionally and physically, but worth every step.
Before starting up the mountain, we left some "trail magic" at the trailhead in the form of pies, cookies, and pudding cups. Our first stop on the trail was Piazza Rock, an enormous glacial erratic that juts off the side of the mountain, and beneath which Steve and I were married in 2006. My friends stood off to the side while I sprinkled some of the ashes, watching the bits of bone bounce and tumble down the rocks and on down the mountainside. A couple miles later, we stopped at the stone staircase that Steve and I had built together with our crew in 2004. I trailed some of Steve behind me along the edge of the staircase as we continued to climb.
The summit was breathtaking that day: the green and blue of the mountains for endless miles, so close to the clouds, and the wind rushing around us. We walked to one edge of the summit, away from all the other people, and I cupped a handful of ashes, holding tight for a moment.  I let go and the wind carried them up and away. One by one and then all at once we sent handfuls into the sky until there was nothing left.
We sat there for a long time, reminiscing about Steve and the time we had all spent with him in the woods. We laughed and cried and passed a flask. We told stories, ate lunch, and sat in silence. I knew this was where he would want to be: high up where the world seems to stretch forever, with the trees and the rocks, on our mountain.
In the days that followed our trip up Saddleback, I felt some closure and relief. He was finally where he needed to be, which was helping me get to where I needed to be. The heft of my grief had shifted slightly, and all at once I realized it was a little easier to breathe and a little easier to be.
Though our daughter was too young to make the full hike this summer, some day I will bring her to our mountain, to this place that brought all of us together. I hope that she will find a similar solace amongst the trees, the clouds, and the feel of solid rock beneath her feet.
Sarah Kilch Gaffney's essays have most recently appeared in the Washington Post, Mamalode, and Brain, Child Magazine.  She lives in Central Maine and you can find her work at www.sarahkilchgaffney.com.