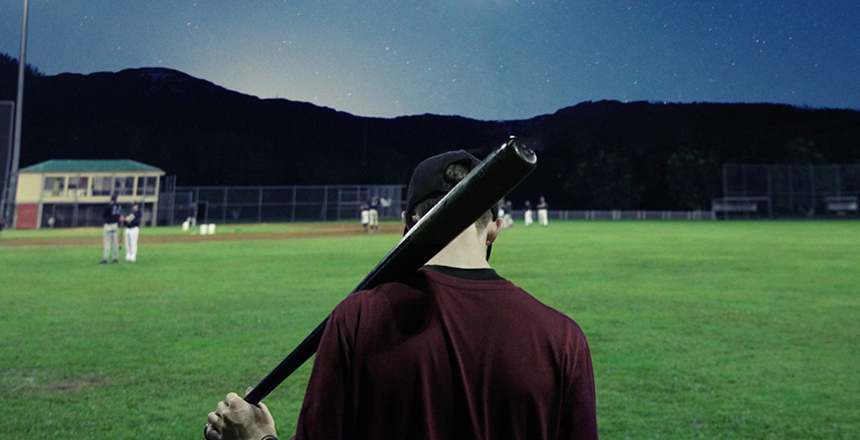 When I was a child, I had recurring nightmares. The kind that would wake me up and make me terrified to go back to sleep. My mom's advice? "Think about something happy as you're falling asleep. Close your eyes and think about baseball."
It was the mid-'80s in Kansas City. Our baseball team, the Royals, had just won the World Series for the first time in franchise history. My mom had become a huge fan after breaking her leg and being confined to the couch. Maybe she associated baseball with literal healing, I don't know. But baseball was always on in our house, whether someone was actually watching it, or not. So when my mom suggested I close my eyes and think about baseball, it made sense.
That night I turned on the black-and-white television in my bedroom and closed my eyes. It was then that I discovered I could see through my eyelids. The players played ball, danced and drifted out of frame like ash from a fire. At first I thought maybe I was imagining them, so I kept opening my eyes to check the players' positions on the field. They were always in the same position they were in with my eyes closed.
READ: Missing Dad on Super Bowl Sunday
It worked. The nightmares disappeared. My mom wasn't surprised. As time went on my nightmares relinquished their hold on me, as did baseball's presence in our house. The Kansas City Royals lost their luster, found rock bottom, and stayed there for the rest of my childhood. Everyone I knew stopped watching, including my mom. I found a new grownup life far away from my hometown, got married, and had a baby. Oh, and at age 58, with no warning, my mom died. I was 32 years old.
Funeral, condolences, estate sale, therapy…all that stuff happened. But so did something else. Something really odd. Her beloved Kansas City Royals, the team that had been the butt of jokes for over a decade, suddenly got good. Really good. They clinched their first winning season in a long time in 2013, that year my mother died. And then they found themselves at the 2015 World Series.
As starting Royals Pitcher Edinson Vólquez made his way to the mound in Game 1, the news reported that his father had died suddenly, just hours before the game. His family decided not to tell him, but we knew, at home, and so did fans in the stands. He pitched with confidence, as though his whole life had prepared him to hurl the ball 97 mph in that stadium, on that day, in that moment in history. But he was performing, in part, for someone who wasn't alive to see it. I couldn't help but remember that at 7:41 a.m. on the day of her death, I'd texted my mom a video of my infant son playing with a toy for the first time. She never opened it.
The nightmares returned after she died. It was no longer fang-mouthed monsters, however. It was stepping up to the counter at the dry cleaner and seeing a check lying there with my mom's handwriting on it. It was every birthday my son had without her, which is every birthday he'll ever have, since he turned 12 weeks old the day after she died. It was never being able to tell her, Look at me, Mom, I got the hang of motherhood. My nightmares had crossed over from the unconscious kind into the waking. As the Kansas City Royals fought their way into the World Series, I wondered what would happen if I were to close my eyes and think about baseball.
READ: Yogi Berra's Early Losses
It was Game 5. Vólquez had just returned from the Dominican Republic after laying his father to rest, and was slated to pitch the game that could win it all. As he stepped onto the mound, I closed my eyes. What happened was this:
I was transported back to our yellow ranch house in South Kansas City, and something about the way I could hear the baseball game from the backyard, and see my mom's silhouette in the living room pausing to watch, made me feel brave.
When I opened my eyes, the Kansas City Royals had won the 2015 World Series. The players were there, but my mom was still gone. And yet applying the advice she gave me as a child took me straight back to her. I have to wonder if, on some level, she knew that it eventually would.
I still have nightmares and find myself awake at 4:00 a.m. Being pregnant with my second child triggers a good deal of anxiety for me, since I will always associate becoming a mother with losing a mother. I still have baseball, though. I have world champions dancing behind my eyelids and, the way I see it, my mom is dancing with them.
Jennifer Dunsmore lives in Holly Springs, NC with her husband and son. In honor of her mother, she is writing again. Visit  www.jenniferdunsmore.com.