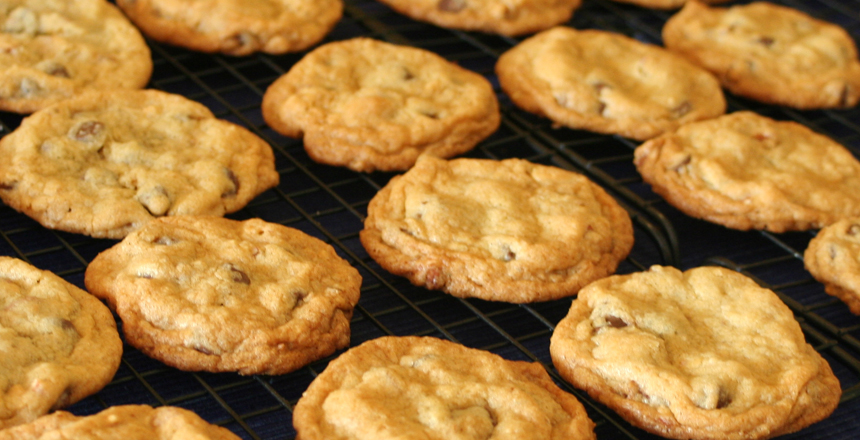 The days following the death of a loved one are a blur of ringing doorbells announcing flower and fruit basket deliveries, and visitors bearing casseroles and tins full of sweet treats. In the aftermath of loss, food nourishes us in more ways than one.
At least 30 years before I became a professional pastry chef, I would bake to say, "I'm sorry for your loss; I love you." Because if ever a good cookie was called for, it's in a house of mourning.
Now that I make cookies (and other desserts) for a living, I've found these oatmeal cookies with peanut butter, raisins and chocolate chips to be my favorite "comfort cookies" for mourners. It's a recipe that's easy to pull together in a hurry, as chances are you have everything you need in the pantry. They're sturdy enough to travel by plane, train or automobile (hint: try it out for Katie Fisher Day on March 12). And, oh yeah, they are deliciously sweet.
Oatmeal Cookies with Peanut Butter, Raisins and Chocolate Chips
Makes about 40-42 cookies
1 ¾ cups (7 oz.) all-purpose flour
1 teaspoon baking soda
½ teaspoon salt
1 teaspoon cinnamon
1 stick (4 oz.) room-temperature butter
½ cup chunky peanut butter (not old-fashioned)
1 cup (7 oz.) granulated sugar
1 cup (8 oz.) brown sugar
2 large eggs
¼ cup (2 oz.) whole milk at room temperature
1 teaspoon vanilla extract
2 ½ cups (7.5 oz.) uncooked oats
½ cup (2.65 oz.) raisins
½ cup (about 2 oz.) chocolate chips
Preheat oven to 350º
Whisk flour, baking soda, salt & cinnamon together in a large bowl.  Set aside.
Cream butter and sugars until creamy. Add peanut butter, and beat to incorporate.
Beat in eggs, milk and vanilla.
Stir in flour mixture until just mixed.
Stir in raisins and chocolate chips.
Drop rounded tablespoons (or similar sized ice cream scoop) about 3 inches apart on parchment lined baking sheets.
Bake for about 15 minutes or until lightly browned, rotating pan midway through baking.
Remove to rack to cool. Store in airtight container. Cookies will stay fresh for about a week (that is, if they last that long).
Gail Dosik founded One Tough Cookie nine years ago as a by-commision-only artisanal bake shop, specializing in hand-decorated cookies, as well as celebration cakes and cupcakes adorned with cookies. When not in the kitchen, she's working on transforming her two spirited Papillon puppies into models of perfection.