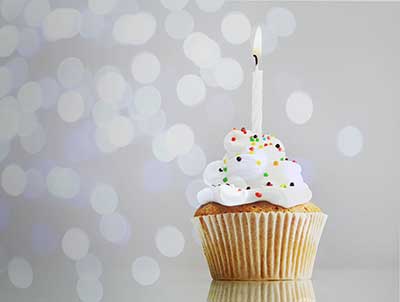 We're one!
Around this time last year, Modern Loss went live — and our simple sign-up page was transformed into a dynamic website and online community.
One seems like such a tiny number. After all, there are some years that have gone by when we've struggled to figure out what the heck we'd really accomplished in the past 365 days besides binge-watched [insert any Bravo show here]. But when we look back at all that's happened this time around, we are astounded (and not just because both of us had babies shortly after the launch).
Since pressing play on Modern Loss last November, our community has grown quickly — thanks to our to our commitment to providing a platform for candid and highly curated personal storytelling with a backbone of practical resources. We've published more than 150 pieces, hosted two wildly successful live events and have seen the number of people reading our site, and our national profile, grow dramatically.
Related
Our success appears to prove wrong those who, in advance of our launch, told us that the project sounded "dark," "depressing," "creepy" or just "too heavy" to be appealing. Today, even those naysayers tell us that they're drawn to the disarming way we approach writing about grief.
Sure, the essays are born of terrible loss. And they're unflinchingly honest. But depressing, they're not. Humor, the absurdity of what happens when we lose those closest to us, and the complicated role technology plays in the grieving process are threads that run through much of our content.
It's clear we've struck a deep chord even beyond our readership. We've been honored to see Modern Loss profiled on the front pages of both the New York Times and Washington Post style sections, in magazines such as Slate, Newsweek, Psychology Today and Brain, Child, and will soon be coming at you in airwave format through various radio programs.
We've also just started getting out there and speaking IRL, which we've loved, since we are, first and foremost, facetime people who prefer wildly gesticulating with our hands to typing on keyboards. We're fresh off giving a talk at the fantastic and vibrant Chicago Ideas Week, during which hundreds of attendees came to an evening centered on shattering the taboo around All Things Death.
Modern Loss is a labor of love by two women who both experienced sudden loss as young adults — and wanted to create the digital community that we looked for, and didn't find. But the truth is we'd be nowhere without our amazing contributors, who have courageously told their stories on the site: From the man who wrote about visiting his late father on Google Street View to the woman who shared why she misses her mom most while watching the "Kardashians." From the college student who explained why her dorm room is an embarrassing place for grief to the mother who described what it was like to receive a kindergarten registration reminder for her daughter who had died of Tay-Sachs two years earlier.
To all of our contributors, thank you for trusting us with your stories. And to our readers, thank you for your encouragement and your thoughtful feedback. Keep 'em all coming.
A special thank you to our wise and witty columnists, Tré Miller Rodríguez, who writes our "Mourning, Noon & Night" column and to Meg Tansey, our go-to for all things advice. Also, thanks to Niva Dorell Smith for her invaluable editing help. And to the coffee gods for keeping us conscious at all hours.
Looking back, it's been quite a year; looking ahead, we have plenty of goals. Like hosting more live events throughout the country. Like building out our resources and "how to" sections. Like sprucing up our site to make sure we're keeping pace with the rapid growth of content. Like sending out newsletter updates to our loyal readers. Like getting some editorial help with reviewing the hundreds of submissions in our inboxes. Like raising money, so we can add new features and functionality to Modern Loss.
On that note, we invite you to donate to Modern Loss. Sustaining and growing this venture takes long, long hours and thousands of dollars. If Modern Loss has been valuable to you or someone you love, if it's made you feel less alone, or if you just think it's great that this grand experiment exists in the world, we hope you will consider a donation. (You can also support us with at Amazon.com, making your future purchases through this portal. Oh so easy!)
Thanks again for taking this journey with us. One is indeed a tiny number, but the ripple effect has been enormous.
– Rebecca and Gabi