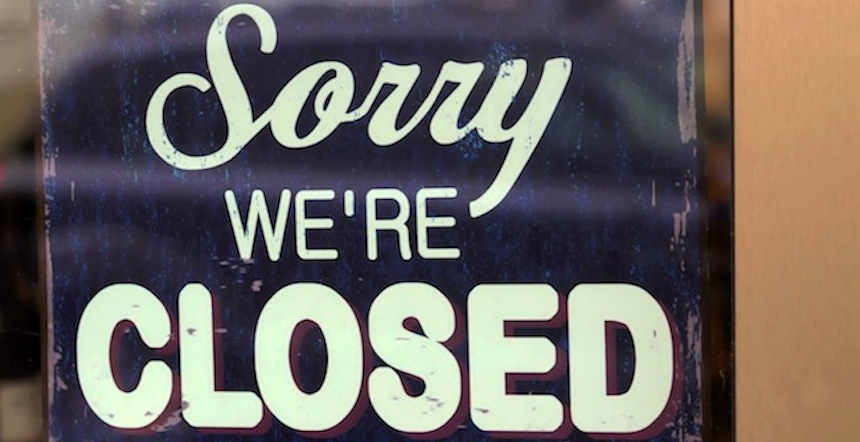 At a mom-and-pop florist a half hour from my house, an unwanted store credit awaited my redemption … for 14 years.
I dimly remember the visit I made there years earlier, during the coldest winter of my life. I shoved an elaborate arrangement of condolence plants across the counter for return as my sister stood nearby. Both she and the clerk who helped me seemed eager to make things right. Store credit or none, nothing could be nothing right that day, nothing for years.
I happened to walk past that florist a few weeks ago. It was the first time I'd been on foot at that corner since the day I brought back the plants all those years ago. The modest white brick building was the same as I remembered, its green sign still bragging: Since 1947. The store credit slip, long since lost or thrown away, reconfigured itself in memory. I pressed my fingertips together as if I still held it, as if the clerk had just handed it to me.
What the hell, I thought now. Why not go in and treat myself, to a bouquet or even the exact same arrangement? Why not give myself the credit I'd earned?
Related
I will tell you why the universe still owes me a potted plant. My husband Gil and I were proud parents of a new baby in December 1998. By the end of the following January, he was dead. We had a half-year of normal new parenthood, and a half-year of slow agony watching our life boil away in the glare of tests, diagnosis, chemotherapy, and eventually hospice. Through it all we tried to be parents; we brought the baby with us to hospital visits, and our families and friends brought us meals and washed our floors and took our child to the zoo or playground while we dealt with the rude intrusion of dying into our home. The baby's first birthday party was at the hospital where Gil received his final care, the same hospital she'd been born in the year before.
After Gil died in our living room, on the newlywed sofa we hadn't yet paid for, our friends did what young mourners do: they filled our house with raucous presence and fellowship. A group of them sent me a huge basket of assorted living plants a gift from Bell Flowers. The gesture was tenderly optimistic, and completely beyond my capacity. I was numb and nursing a baby. I'd gone through six nearly sleepless months tending cancer, and before that six months with an infant. I couldn't care for another living thing. I couldn't think of any more needs, not even the needs of a plant.
"Take it back," my sister said. "Get what you want."
But there was nothing I wanted that I could get there.
She bundled me into my car. She stood by me as I went to the
counter. "We'd like to return this arrangement," she said. Her warm hand stayed on my arm.
The woman at the counter asked what I wanted to replace it with.
"Nothing."
"No? No fresh flowers?"
"No."
"Nothing at all?"
"Nothing. I don't want this. I don't want anything. I want nothing."
She was silent for just a moment, and then wrote out a small ticket.
"If you lose this, don't worry," she said. "Come back when you want, if you want. You can have whatever you want. If you want."
I did not go back.
Now here I was, standing outside Bell's glass door. Through an obstinate combination of will, luck, and sometimes barely sufficient judgment, I had rebuilt my life and could now make room for a plant or two. But when I pulled on the door at Bell Flowers, it didn't open. Behind the glass, I glimpsed empty shelves. I went to the building next door. The shop owner told me Bell had closed the store.
"They're still in business, though," she told me. "Just online."
That's how I found myself a few nights later, looking at a bright screen of the Sympathy arrangements at Bell Flowers. There, labeled Large Basket Garden, was the exact same arrangement I'd once held in my hands: Croton, ivy, pothos dieffenbachia, schefflera, and syngonium arrive together in a wicker basket with handle.
Reader, I didn't order it. I am not so sentimental that I have to recover the very living arrangement I once gave up. It can't be gotten from a website, i n any case, just as it couldn't have been gotten from the store. I don't believe in replacements or redemptions. I don't believe you can give up what you loved and receive a fair exchange. But I do believe in memory. I do believe in experiences remaining intact for good, deep underground for a fallow time, and springing back to life.
Lisa Schamess is an essayist and fiction writer based in Washington, D.C. Her work on grief and memory have appeared in Beliefnet, Creative Nonfiction, and TOSKA magazine. A portion of this essay was written in residence at the Virginia Center for the Creative Arts, where Lisa is a member of the Fellows Council.