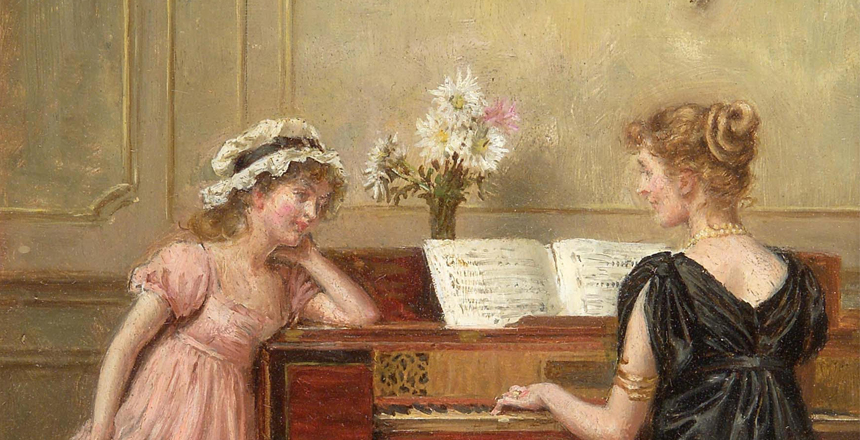 The tinkling of the music teacher's piano sets the rows of children in a rush of movement and kid song standards such as "You are my Sunshine," "Tomorrow," and "Be Our Guest." I feel like crying, screaming.
I dread my daughters' concerts and recitals, and it's not because I can't stand children's music. I love my daughters' voices and musical skills in the way a mother can, and their peers—a furious slapdash of eyes and hair attached to ever-whirling bodies—are adorable in the way that children are.
I dread these ever-growing performances because my mother died unexpectedly after getting hit by a car while in a crosswalk. It happened two years before I became a mom, and light years away from the close-knit suburb where many of the parents of my children's friends live minutes from their own doting parents in a multigenerational Hallmark holiday story of togetherness.
Related
Ugh.
My father died five years after my mother, from heart disease, when my children were only two and four—too young for the primary school performance seasons.
I have attended all of my children's performances, from summer camp finales to school concerts to Broadway-themed classes. And it's always the same.
Every child appears to have four grandparents and a gaggle of aunts and uncles in tow. They are families drunk on the fountain of youth, all sitting next to each other in the front row with the wild enthusiasm of missionaries for the religion of their grandchildren. Each grandparent holds a camera, video recorder, or iPhone, documenting the latest chapter in the great and eternal story of their family. After the closing number, at least one of these impossibly vivacious sets of grandparents will produce a bouquet of expertly arranged flowers, or a small gift of great meaning, like something out of a fairytale.
Then, there's me.
I am usually sitting by myself in a sealed bubble. My husband joins if he can escape work early—these things always take place in the middle of the afternoon—but for the most part I watch alone.
My in-laws rarely attend a show. My father-in-law, while nearby, is a long-suffering brain cancer patient, and my mother-in-law is his full-time caregiver. It is difficult for them to journey outside of the house, and the logistics of parking with proper disability access and winding through rows of closely aligned folding chairs make their visits rare.
And so, by myself, I look around. The grandparents seem so happy to be there. They seem to live in a picture postcard world where they wave to me without looking from their island vacation. They're alive, tanned under the sun of noise and singing, no illness holding back their wide-breaking waves of their smiles.
And so, by myself, I imagine my mom sitting beside me. She's taking pictures, holding flowers, and telling everyone how her granddaughters are the best actors, singers, dancers, violinists, and pianists. She's hugging me. She's holding my hand. Perhaps, we spent the day together and had lunch before the recital. She's next to me and she's warm. She's alive.
I also imagine my dad there. He's fumbling with the video camera, likely recording the ceiling because he can't figure out the latest model. (My dad really did videotape the ceiling the day I adopted my daughter in China). My dad probably insists that we eat at Panera before attending the recital. He's smiling, and although no one will ever see the video, he is as proud of his granddaughters as if this were their Metropolitan Opera debut.
Everyone is surrounded, almost enfolded, by his or her parents. Except me. I see other moms talking and laughing with their moms and dads. They express with their smiles and hugs a language that is based on a different system of letters. I feel like crying, but stifle the tears. I want to talk and laugh with my mom and dad but they will never attend this show.
Suddenly, the lights fade. The concert begins, and my daughters step into the spotlight. They move with the lightness that only children know. They flash me the biggest, warmest smiles. I return their looks, and I know that my parents, although absent, long gone, would be smiling too.
In the music my daughters sing, and in the way they move, I see my parents reflected back to me. When I pull my children close after the performance, and as their arms surround me, we together hold tight to the past.
Kelly Haramis is a writer/editor/performer. Formerly a Chicago Tribune journalist, she has performed her one-woman show that she wrote "Double Happiness: A Tale of Love, Loss, and One Forever Family" in Chicago, New York, Orlando and Montreal. Kelly lives in the Chicago area with her husband and two daughters.