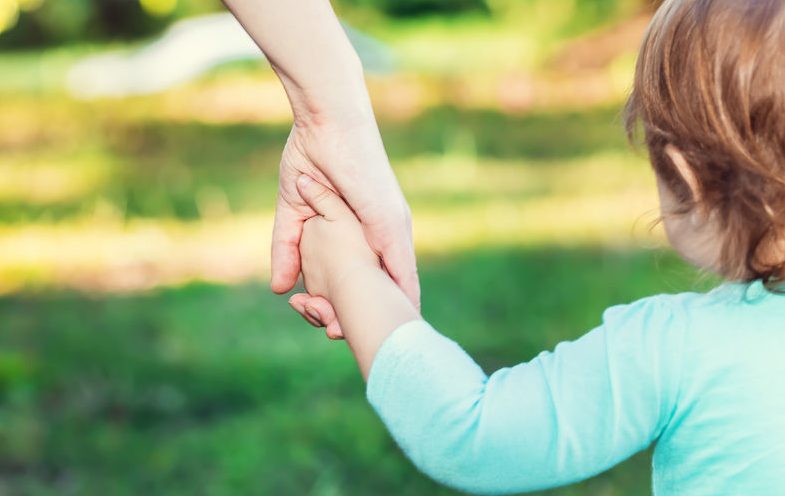 Having my 2-year old daughter, Lucy, and 7-week-old son, Arlo, at my mom's funeral was more meaningful than I could've predicted. It took some preparation, some dedicated helpers and faith that it was worth the risk, but it was one of the best parts of a terrible day. While there's no perfect answer for every family, having my kids at my mom's funeral was the right answer for us. If you're reading this because you're inclined to give it a try — and some grief and child development experts have encouraged participation on some level for kids as young as preschoolers — I hope these tips will help. (Additional resources on this topic, courtesy of The Dougy Center, a nonprofit devoted to grieving children and families, can be found here.) 
Find your words: Decide what your family believes and settle on the exact language. For us, "Gram went away, her body broke and she's not coming back" was enough to satisfy the questions our 2-year old posed. We tried to be precise, while also concise enough to repeat. (You can expect young children to ask the same question over and over again.) Spend the time to find the words that are right for your family before your kids ask the questions.   
Set expectations: Use clear, direct language to describe what your kids will experience at the funeral. Reassure them that they are safe and acknowledge any unusual behavior, like adults crying or your attention being diverted. As we prepared Lucy for the funeral — a party in the backyard, similar to many she'd attended — we explained that "some people will be laughing and some people will be crying," explaining to her what she'd see rather than the more abstract purpose of the event.  
Build your team: First, determine who will be the main caregiver during the different components of the event. My beloved mother-in-law flew in from Virginia to provide seamless, loving support as the kids' primary supervision for a week. I am forever grateful. If you don't have a fairy godmother, don't hesitate to bring a paid caregiver. Having someone who can fully focus on the kids, especially someone able to provide comfort and reassurance, can make a big difference. People want to help — let them.
Prepare age-appropriate activities: Allow the kids to participate in this memorial on their own terms, through play. But keep it simple.  
Reading corner:

Create a quiet area to reflect, rest and recharge. Collect children's books related to your loved one's hobbies, career or cultural background, along with some favorites from home.  

Custom coloring pages:

Do a

Google Image

search for the term "coloring pages" along with a favorite hobby, significant location, or favorite food item. Skip the markers and spring for the Washable Crayola crayons (trust me).

Foot races:

Get outside and burn off energy—this is an absolute must. Find a place to be loud (within reason), bring a package of sidewalk chalk

and

some

imagination

.  
Set boundaries: It's especially difficult to be a griever and a caregiver simultaneously. Plan ahead and identify your stressors, make a plan, set your boundaries. Arlo was 7 weeks old at my mom's funeral, and I knew people would want to meet and hold him. I wasn't comfortable exposing him so widely at such a young age, so I decided that access to him would be limited to six people. As I greeted guests, I said, "Stop by and wave at the baby." A dear friend, who happens to be an experienced bouncer, was more than happy to sit next to the bassinet and convey that Arlo was a "hands-off baby" for the day. I identified my stressor, made a resolute decision, then called on my team to back me up. It worked marvelously.  
Have an exit plan: Ensure that someone can accompany your kid if they need to leave or take a break. Let your kids know how long they can expect to be at the event and where they can retreat, particularly if emotions are running high.  
Debrief: Ask your kids questions about the experience, who they saw, what they remember. Help them create memories about the event and process its significance. Start the conversation about life and death that can evolve over many years.
I want to be clear that I don't think there is a right answer for all families, and I understand that emotionally charged environments can be overwhelming and, ultimately, traumatic to some kids. I don't think kids *should* participate in funerals, only that they *can* benefit from doing so, under the right circumstances. Whatever works for your family, I wish you the best in healing and the empowerment to find what's right for you.
Megan Carmichael is an independent funeral consultant based in Pasadena, California. Through her company, Eucalyptus Newfashioned Funerals, she works with individuals and families who are planning funerals and planning ahead.
Please note: Modern Loss is not a therapeutic adviser; this category should only be used as a guide. Users should verify the veracity and appropriateness of the information posted on the site with his or her own therapeutic adviser.